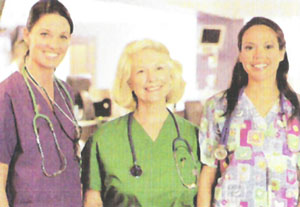 We provide facility staffing services to support the personnel needs of hospitals, long term care facilities, clinics, doctor's offices, assisted living communities and senior day care centers.

We understand that situations such as, vacations, vacancies and leave of absences may leave you shorthanded. You can depend on Preferred Health Care Services to provide you with reliable and kind specialists who will meet your needs by providing outstanding care.

Our personnel include:
Registered Nurses
Licensed Practical Nurses
Certified Nursing Assistants
Certified Med Tech's
Certified Home Health Aides
Rehab personnel
Dietary Aide
Housekeeping
Clerical
Call Preferred for Temporary Staffing when vacations, vacancies, leaves of absense and other situations leave you shorthanded, call Preferred for qualifiied temporary employees who can exceed your expectations for a job well done. We have provided temporary staffing in parallel with our in-home services since 1986 to give you direct access to quality people when you need them, affordably. We support the staffing needs of hospitals, nursing homes, physician offices, clinics, senior day care centers, and others, earning a reputation for quality and reliability. The professionals you need now are at Preferred Health Care.